Description
Have a question?
866-639-9320
Monday-Thursday, 8am to 9pm,
Friday 8am to 5pm,
Sunday 5pm to 9pm
Wilson Ultra Mens Complete Right Handed Golf Club Set with Bridgestone e5 Balls
2 YEAR WARRANTY! FAST SHIP! 14 PIECE SET! MAX DISTANCE!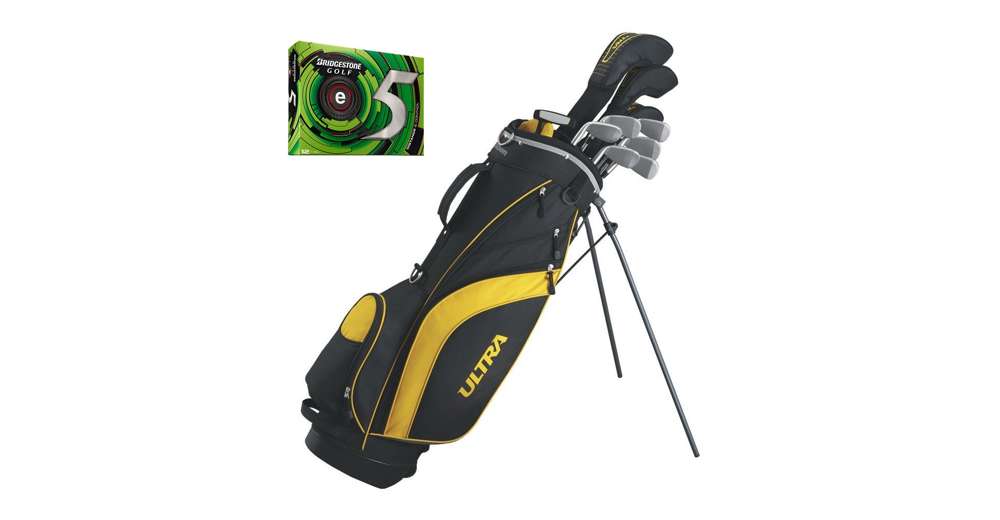 About Wilson
For nearly a century, Wilson Golf has designed, manufactured and distributed premium and recreational golf equipment throughout the world. Wilson has won 61 Major championships, more than any other manufacturer in history. The men's ULTRA package set continues that tradition today by delivering the highest quality golf equipment to all golfers to enhance performance on the course and overall enjoyment of the game!
There's a lot of golf to be played, so tee off with this Wilson Ultra Men's Standard Right-Handed Golf Club Set With Bag.
This golf set comes completely assembled, so you can get right out on the course. It includes a FLEX graphite driver, fairway wood, #4 hybrid, steel shaft 5, 6, 7, 8, and 9 irons, a pitching wedge, a steel shaft mallet putter, and a lightweight cart bag. The driver, fairway wood, and hybrid all come with matching head covers.
This Wilson set has everything you'll need to take your game to the next level. The large, sweet-spot driver will provide plenty of distance off the tee, and the #4 hybrid eliminates the hassle of hitting long irons. The putter includes a steel shaft that produces consistent contact and feel, so you can finish the hole with confidence.
The e5 High Flight golf balls provide you with more lift and longer carry with the added distance you've been shooting for. The high spinning tour caliber cover and unique 2-piece construction are all thanks to the e5 Technology and your impeccable back swing, of course. These golf balls also feature new, larger dual dimples that provide reduced drag for high speed and longer flights while the outer dimple design increases your roll.
Wilson Ultra Golf Club Set

14-piece package golf set complete with a driver, fairway wood, hybrid, 5-PW, putter, bag and head covers
Right hand men's standard length
Completely assembled from the factory and ready to play
Reinforced graphite shaft tips
Matching head covers for driver, fairway wood, & hybrid
Driver:
Oversized 460cc titanium head with FLEX graphite shaft
Widened and higher lofted club face allows for easy alignment & larger forgiving sweetspots
Forged titanium composite driver for higher stability at impact and greater distance off the tee
Maximum distance & control
Fairway wood:
Forgiving and high loft club face for great accuracy
FLEX graphite shaft
# 4 hybrid:
Easy to hit – replaces old hard to hit long irons
Provides excellent height/trajectory from hard to hit places
The compact head shape aligns easily and promotes confidence
True temper steel shaft
Irons:
5, 6, 7, 8, 9, PW with true temper steel shafts
Widen face for better contact on all hits
Perimeter weight & lower center of gravity for increased launch angle
Putter:
High MOI putter for easy alignment and therefore more accurate puts
Easy alignment features
Auto deploy stand bag
Improved feel grip
Steel shaft
Bag:
Lightweight so it works great for walking
Durable backpack style carry bag has tons of pockets to fit everything the golfer will need for a full day on the course
Multiple storage pockets
Easily straps to any type of cart
Part Number: WGGC27000
Warranty: 2-year warranty

Bridgestone e5 golf balls

Don't let low ball flight get you down, get more lift, longer carry, and added distance to your game
e5 Technology is engineered to provide more lift for longer carry and added distance
326 seamless dimple design with WEB Dimple Technology
Large gradational core
Tour caliber urethane cover
Unique 2-piece construction offers spin with control
Improved cover for increased aerodynamics
Quantity: 12 balls
Part number: ECWX6D-E5
Please contact Customer Service at (866) 639-9320 for additional warranty information.
Shipping Details
We Ship With
This Item Ships To
USA (Continental 48)
FREE
This item can only be shipped within the United States, no exceptions.
Most orders arrive at your door in 1-2 Business days FOR FREE!
With 4 warehouse locations nationwide your order will not travel far from VMInnovations to your home. Place your order before 3 PM Eastern and it will ship the same day Monday – Friday, excluding major holidays. Freight shipments may take additional prep time and require a phone number for delivery.
VMInnovations will ship your order to your PayPal Verified address provided. Please verify this address is current in your PayPal account before making your payment. Any address change request made outside PayPal cannot be guaranteed.
Please provide a physical address for delivery. We cannot ship to APO/FPO/PO Box addresses.
Shipping is FREE within the 48 continental states. Many items will ship to Alaska, Hawaii, US Territories and Internationally for an additional fee. Please check the Shipping and Payments tab above for rates.
VMInnovations can expedite most items Overnight or Guaranteed 2nd day. Please check the Shipping and Payments tab above for rates.
About VMInnovations
At VMInnovations, we specialize in a wide variety of products including car audio and installation products, consumer electronics, home audio, and sporting goods. Our goal is to deliver quality products to our customers at the lowest prices possible.
Why buy from VMInnovations?
The best products, the best prices

Our team works hard to find you the best bargains on the planet, and our prices and product selection reflects that effort.

Friendly, accessible customer service

Our dedicated customer service agents are here to help you, Monday through Thursday 8:00am – 9pm, Friday 8:00am – 5:00pm and Sunday 5:00pm to 9pm Central Time.

Super fast shipping

Most of our items leave the warehouse within 1-business day of your order. Additionally, we've teamed up with FedEx and USPS to offer the shortest shipping times and the most reliable service available.
Payment & Order Cancellation Information
Instant PayPal payment is the preferred method of Payment
VMInnovations also accepts Visa, MasterCard, Discover, and American Express
Sales tax is charged for Indiana, Nebraska, Nevada, and Pennsylvania orders
Cancelling Your Order
To uphold VMInnovations' shipping speed, your order will be processed immediately. If you change your mind after payment is confirmed, we will do our best to stop the order, however, VMInnovations cannot guarantee the cancellation.
Our Returns & Exchange Policy
VMInnovations will gladly accept your return within 60 days.
Our returns process is simple and fast:
Notify our customer service team of the return at 866-639-9320 or Contact US

VMInnovations will quickly email you an RMA number to identify your return.

Ship the product back to VMInnovations with all original parts

Return shipping is the responsibility of the customer, and VMInnovations will pay to ship the replacement to you. Please include all original packaging and accessories with the returned item.

Our returns team will quickly ship the replacement or refund your payment

VMInnovations strives to maintain a goal of 72 hours service for all replacements. You will receive an email when the return is processed to notify you of your replacement tracking number or refund.

We understand you may change your mind and prefer a refund. We are happy to refund you minus our shipping costs or offer a 110% store credit to use on any item in our store.
var adlImgs = [];
var items = document.getElementsByClassName("mediaItem"); for (var i = 0; i < items.length; i++) { adlImgs.push({ "id": items[i].dataset.target, "src": items[i].dataset.uri, "pos": i }); } var curPos = 0; var g = function(a) { return document.getElementById(a) }; var setImage = function(item) { return function() { // g("vimeo_player").style.display = "none"; var vimPlayer = document.getElementsByClassName("vimeoPlayer"); for (var i = 0; i < vimPlayer.length; i++) { vimPlayer[i].style.display = "none"; } for (var i = 0; i < adlImgs.length; i++) { var parent = g("p_" + adlImgs[i].id); parent.className = ""; } var parent = g("p_" + item.id); parent.className = "active"; var itemSrc = item.src.split("+", 2); var src = itemSrc[1]; if (itemSrc[0] == "img") { g("img_main").setAttribute("src", src + "&w=1000&h=520"); g("img_main").focus(); } if (itemSrc[0] == "vimeo") { playVimeo(src); } curPos = item.pos; }; }; function addLoadEvent(a) { var c = window.onload; if (typeof window.onload != 'function') { window.onload = a } else { window.onload = function() { if (c) { c() } a() } } } addLoadEvent(function() { for (var i = 0; i < adlImgs.length; i++) { var item = adlImgs[i]; g(adlImgs[i].id).onclick = setImage(item); } g("imgNext").onclick = function() { curPos += 1; if (curPos >= adlImgs.length) curPos = 0;
for (var i = 0; i < adlImgs.length; i++) { if (adlImgs[i].pos == curPos) { setImage(adlImgs[i])(); } } }; g("imgPrev").onclick = function() { curPos -= 1; if (curPos < 0) curPos = adlImgs.length - 1; for (var i = 0; i < adlImgs.length; i++) { if (adlImgs[i].pos == curPos) { setImage(adlImgs[i])(); } } }; }); var playVimeo = function(id) { for (var i = 0; i < adlImgs.length; i++) { var parent = g("p_" + adlImgs[i].id); parent.className = ""; } g("p_vimeo_" + id).className = "active"; var video = "http://vimeo.com/moogaloop.swf?clip_id=" + id + "&server=vimeo.com&color=00adef&fullscreen=1"; video += "&au"; video += "to"; video += "pl"; video += "ay"; video += "=1"; var vimPlayer = document.getElementsByClassName("vimeoPlayer"); for (var i = 0; i < vimPlayer.length; i++) { vimPlayer[i].style.display = "none"; } // g("vimeo_player").style.display = "none"; g("vim1").value = video; g("vim2").src = video; g("vimeo_player_" + id).style.display = "block"; }